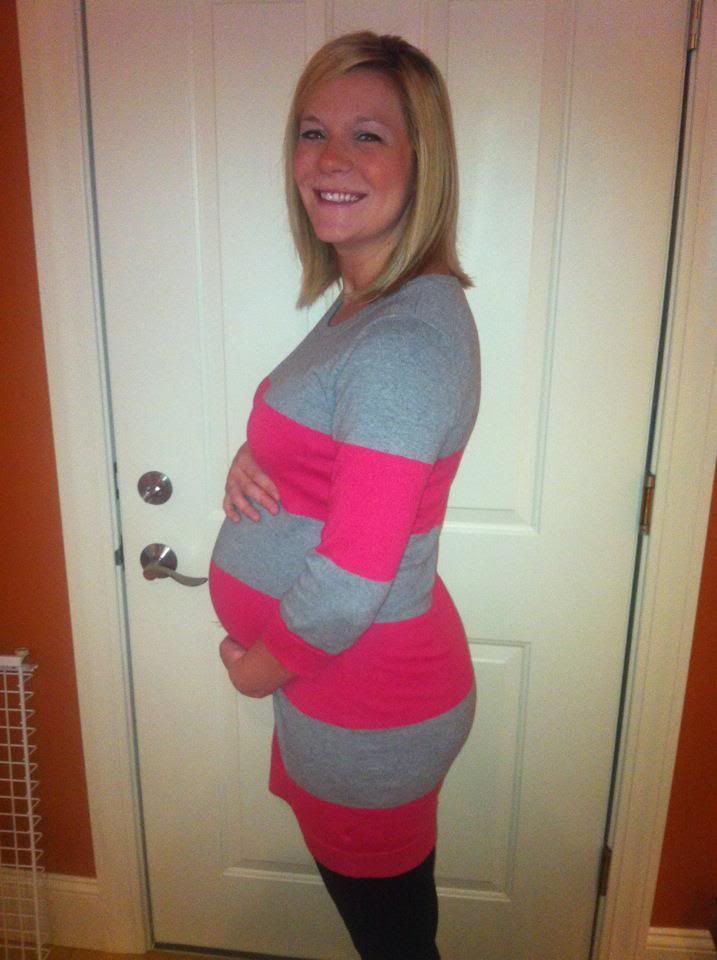 For some reason, I look smaller here than previous weeks…must be the dress!
I am officially 31 weeks and 1 day and Cam-man weights a whopping 4 pounds!!
We went to the doctor on Friday for an ultra sound (Dr Dersch thought I was measuring small, but there is nothing small going on in there!) and got see our little man. And yes, he's still a man! I made sure we got verification of that. ;)
He's head down and facing my back, which is great for delivery…let's just hope he stays that way! His butt is right around my belly button, which makes for some funny shapes when he decides to move, and his feet/hands are on my left side…I can always feel/see one of his limbs sticking out!
Momma is feeling GREAT and gaining weight like a champ! So far, I have gained around 19-20 pounds, which is apparently right on track. My back is hurting at times and my feet and hands are a little swollen at night, but Chad has been taking great care of me. ;) Just yesterday and today, I have started feeling nauseous again and light headed! I am just trying to keep hydrated and eat as many nutrients as possible.
Daddy is so excited and ready for him to join us! We saw lots of hair in the ultra sound and this made him a happy man!
We've received so many wonderful gifts and clothes and we haven't even had our shower yet! I spent this past weekend "nesting" by cleaning and organizing his clothes, organizing the fridge (I am positive that was necessary) and lots of other random to-dos. However, our list of things to do is growing by the day and is a little scary. Most importantly, we still have to find child care for next year and a pediatrician! Gah…the stress! ;)
All in all, we are ready for this guy to come! We cannot wait to have him here with us :)
xoxo
Jess